How does it work?
A Complete Cyber Security Solution
For Family and Business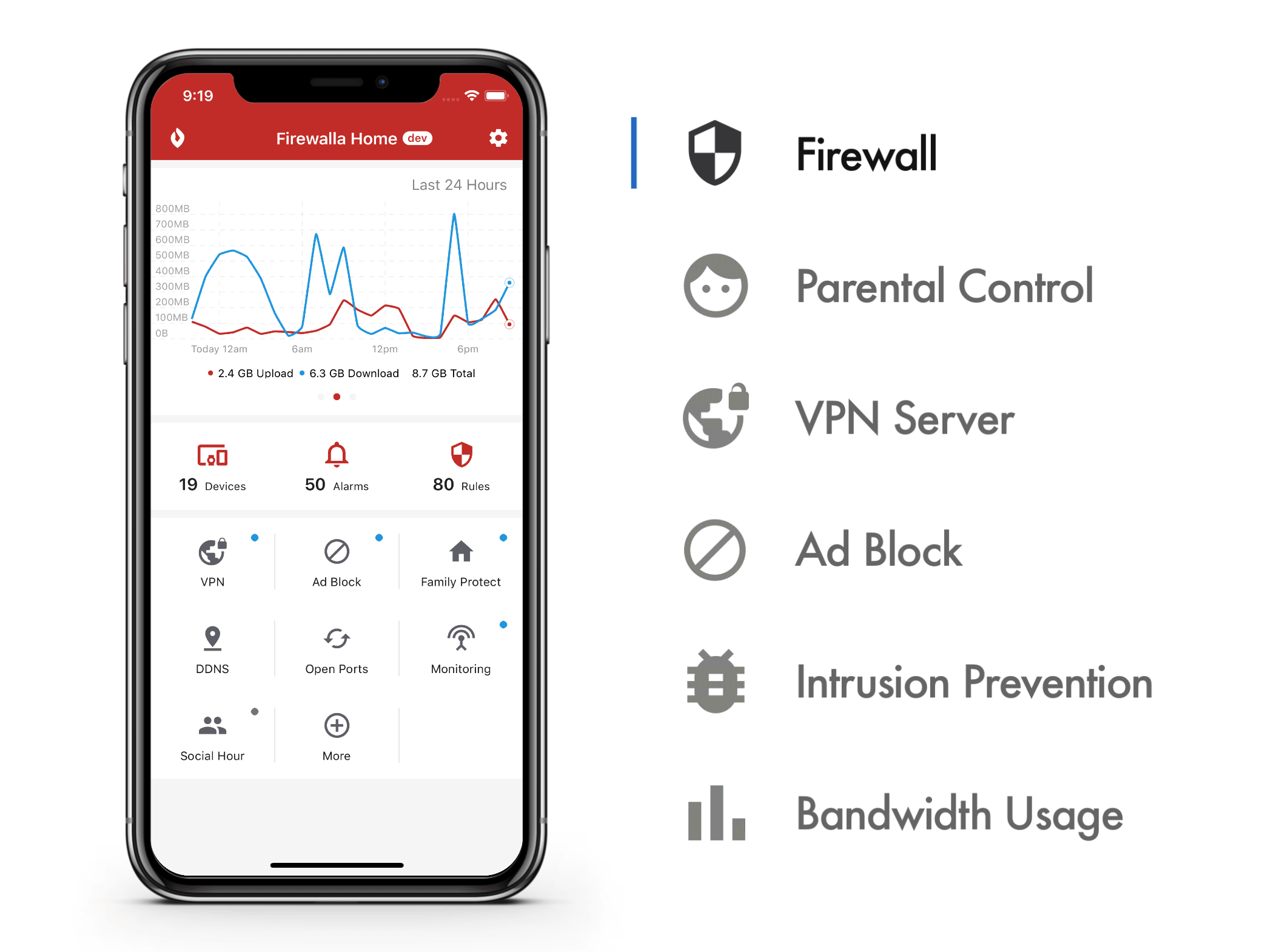 Easy & Complete control of your network 
Apple & Android APP
Cyber Security
From smart speakers to baby monitor cameras, there is no shortage of technology in your home for hackers to exploit. Firewalla sends automatic alerts and protects your devices from cyber threats.
Detect, prevent and block active cyberattacks and intrusions
Monitor for abnormal trends through intelligent behavior analytics
Actively block malicious sites in real-time
Continuously scan your home for security vulnerabilities and risks
Parenting with Ease
Parenting is a tough job, but Firewalla makes things easier.  With a simple tap of a button, you can: 
Restrict internet access

Stop any devices from playing online games

Block social networking
Monitor online activity
Receive online activity alerts
Block malicious and adult content
Bandwidth Usage Management
Worried about internet usage limits or network performance issues? Forgot to turn off streaming? You can monitor uploads, downloads, and total bandwidth usage of devices in your network, dig deep into any device for details and get alerted for unusual patterns.
Hourly, daily, and monthly bandwidth usage summary

Per device bandwidth usage stats and deep-dive details

One tap to block domains or activities consuming unusual bandwidth

Get notified when a spike in bandwidth usage occurs

Track bandwidth usage against your monthly data plan limit
Safe Search
Safe Search is a feature used by major search engines like Google Search, YouTube, Bing, and DuckDuckGo to filter adult content out of search results.   If anyone enters an inappropriate or suggestive phrase in the search bar, the results will be filtered for offensive content.
Make Your Privacy a Priority with VPN
Are you comfortable sharing your data when using public Wi-Fi or traveling to regions where the internet is filtered or controlled? 
Introducing Firewalla OpenVPN server, a VPN server that runs inside of your home or business without charging a monthly fee.
Protects privacy when using public wifi
No monthly fee or bandwidth throttling
Surf the web virtually "at home"…from anywhere
Bypass internet filtering and monitoring when traveling
VPN Client:  Securely Connect to Any Device
With Firewalla's VPN Client, you can connect any device or devices in your network to many OpenVPN based services.  
Connect any IoT devices like Apple TV to third-party VPNs
Remotely connect your home devices to another Firewalla 
Connect two sites together with a site-to-site VPN and access devices securely both ways
Say Goodbye to Annoying Ads
Website ads and trackers have been frustrating internet users for years. That's why Firewalla's built-in ad blocker makes sure you don't see ads and the ads don't see you.  
Block ads across all devices
DNS cache to speed up all other lookups
Protect Your Privacy with DNS over HTTPS
Traditionally DNS requests are sent in plain text between the client and the DNS server. DNS over HTTPS (DoH) sends DNS requests encrypted over HTTPS. It makes DNS exchange more secure and protects user privacy.
Advanced GEO-IP Filtering 
Using GEO-IP  Filtering, a technology that can block network traffic from entire countries, you can effectively stop overseas hackers from remotely attacking your business or home network.
Family Time
Firewalla is committed to taking back family time from social networks. One hour at a time. "Social Hour" blocks all social networks for one hour.
Easy to Install
Up-and-running, as easy as 1-2-3! Zero frustration.  No password is required.
Connect your Firewalla to a power source and your primary router.
Launch the app on your mobile device and scan the barcode.
Monitor and Manage your device from anywhere in the world with military strength encryption.
Simple & Sophisticated
Cybersecurity shouldn't be complicated and intimidating. We believe with the right software, cybersecurity can be made as simple as tapping on a few buttons.  Most of our features are just that, one tap away.
And for sophisticated power users:
See and dissect network flows of any device
Upgrades automatically.
SSH access and Full Linux Distribution inside for the curious.
Lots of knobs for customization.
​